ENID, Okla. — Local public health workers ran low on pens Wednesday morning, but had enough single-dose COVID-19 vaccines to give people who visited Enid soup kitchen Our Daily Bread.
Staff and volunteers with Garfield County Health Department's newly organized mobile vaccination team vaccinated 29 people who'd either come for a daily hot meal or had learned of the clinic on their own.
Our Daily Bread's director, Deacon Val Ross, said he hoped to get as many patrons and workers vaccinated as possible before the soup kitchen opens up its dining room area again by May at the earliest.
Our Daily Bread, at 616 W. Randolph, has operated as to-go only for more than a year because of the COVID pandemic. Lunchtime meals are served from 10:30 a.m. to noon Monday to Friday.
"It's all a waiting game in getting everybody vaccinated so that we can all feel safe again to come inside together," Ross said.
The county Health Department is offering only the single-dose Johnson & Johnson vaccine during its mobile outreach events, which began last week in the Enid area. The county is coordinating the mobile team with staff from Oklahoma State Department of Health.
"The thing to really reinforce is that by doing the Johnson & Johnson and doing one dose, that's so good for those populations that we might not be able to get back (for a second dose)," clinic volunteer Janet Cordell said between giving shots Wednesday outside the building with RN Christa Haley.
On Tuesday, the mobile team gave a total 124 shots to staff and inmates at Garfield County Detention Facility and then to residents at New View Apartments.
Last week, a team went to Hope Outreach Ministries' day shelter, where 25 people received shots, said Maggie Jackson, with the county Health Department.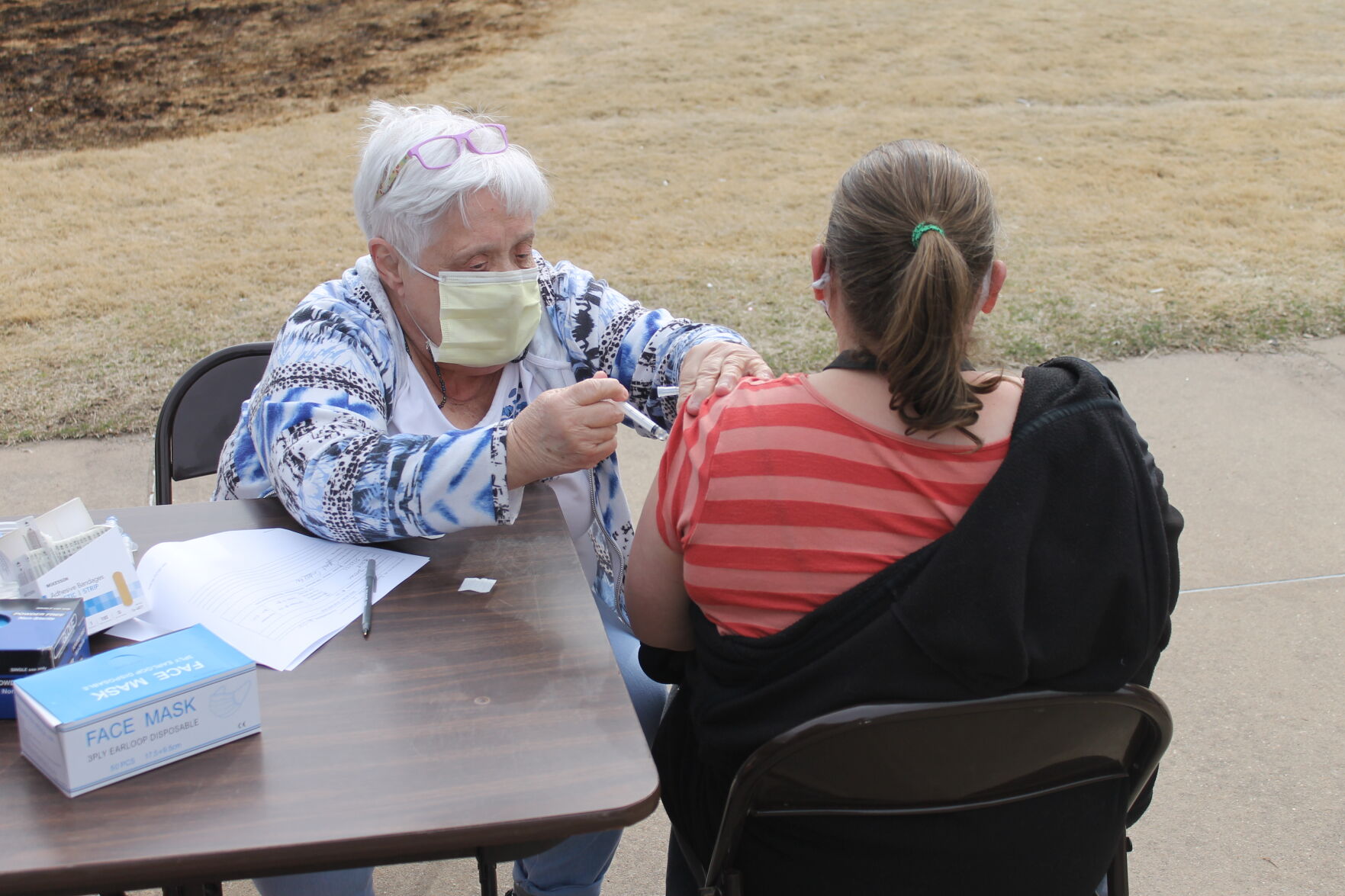 Jackson said other counties throughout the state also have been organizing mobile events such as in Guthrie, El Reno and Yukon.
"For some people, they had different barriers to getting to appointments at the mall or definitely were more interested in the Johnson & Johnson vaccine, so we feel like it's time for us to get to people where they are," she said.
People would show Jackson their driver's license or another form of identification and fill out a paper questionnaire packet, which they'd give the nurse administering the vaccine, and also receive a vaccination card to keep.
Enid resident Jerry Brandt said he got the vaccine Wednesday so he and his sister could visit their 80-year-old mother, whom he hasn't seen in five years.
Brandt's mother has chronic obstructive pulmonary disease, so she was requiring her children to get the COVID vaccine before coming to Northern California next month.
"I'm doing it to safeguard my mom," he said. "She didn't want anyone coming around her at all (the past year)."
Brandt said he'd been chasing the J&J vaccine all over town because he didn't have enough time to get a booster at least three weeks later and then wait two more weeks for the vaccine to become effective.
Walmart, local pharmacies and the county Health Department's Oakwood Mall vaccination clinic are all only offering the two-dose Pfizer and Moderna vaccines, which both require a second booster shot at least three weeks later for effectiveness.
The mobile vaccination team later Wednesday brought around half a dozen more vaccines to Hanor Family of Companies' mill house. Teams later this week will visit Hanor's corporate office and the Koch Fertilizer nitrogen production facility and next week will go to Seaboard Foods in Hennessey, Jackson said.
The Oakwood Mall clinic, which normally is open weekday mornings, will be open for appointments all day this weekend.
County school staff will be expected to receive their second dose of the vaccine on Saturday, and Jackson said walk-ins also will be available. Appointments can be made online or by calling 211.
Beginning Monday, all Oklahomans 16 and older will be eligible for the vaccine.
The Pfizer vaccine is available for those at least 16 years old, and the Moderna and Johnson & Johnson vaccines are available to those 18 and older. At the Oakwood Mall vaccination clinic, only the Pfizer and Moderna vaccines will be available.